19th European Maya Conference: Bratislava, Slovakia
Maya Cosmology:
Terrestrial and Celestial Landscapes
17 - 22 November 2014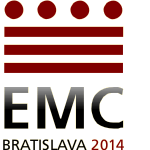 The 19th European Maya Conference in 2014 is organized and hosted by the Comenius University in Bratislava, the Slovak Archaeological and Historical Institute (SAHI), the Slovak University of Technology in Bratislava, and the University of Economics in Bratislava.

It will be held from 17th to the 22nd of November. A three-and-a-half-day Workshop (17th-20th of Nov.) will precede a two-day Symposium (21th-22nd of Nov.). All parts of the program will take place in Bratislava, in buildings of Comenius University and the Faculty of Arts (at adjacent addresses, including: Šafárikovo námestie 1, Gondova 2 and Štúrova 9), Slovak University of Technology (Radlinského 11) and University of Economics (Konventná 1).




Programme for Workshop and Symposium
There will be separate registration available for both events.
---
For further information, please contact the Wayeb Conference Board or the local organiser Dr. Milan Kováč of the Comenius University in Bratislava at emc2014@wayeb.org.