18th European Maya Conference: Brussels, Belgium
Post-Apocalypto:
Crisis and Resilience in the Maya World
28 October - 2 November 2013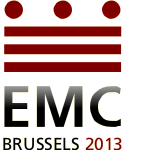 The 18th European Maya Conference is co-organized by Wayeb, the Université Libre de Bruxelles (ULB, Dpt. of Art History and Archaeology, Section Pre-Columbian Civilisation), the CENA (Centre d'Etudes Nord-Américaines-Canada-Etats-Unis-Mexique of the ULB) and the Belgian Society of Americanists (SAB).

It will be held from October 28 to November 2, 2013 in Brussels, Belgium. A three-and-a-half-day Workshop (October 28-31) will precede a two-day Symposium (November 1-2).

There will be separate registration available for both events.
---
For further information, please contact the Wayeb Conference Board or the local organisers Dr. Peter Eeckhout and Dr. Sylvie Peperstraete of the University of Brussels at emc2013@wayeb.org.