21th European Maya Conference: Moscow, Russia
Hierarchy and Power in the Maya World
17 - 22 October 2016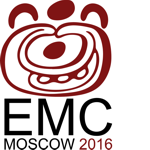 The 21st European Maya Conference will be held in Moscow, Russia, from 17 to 22 October 2016. The meeting is organized by the Knorozov Center for Mesoamerican Studies, Russian State University for the Humanities and the Department of Ancient History, Lomonosov Moscow State University in cooperation with Wayeb (European Association of Mayanists). The conference is supported financially by the Russian Scientific Foundation. It will combine three-and-a-half day workshops (October 17 – 20) and a symposium (October 21 – 22).




EMC-Announcement & Call for Papers
There will be separate registration available for both events. If you wish to attend the 2nd TWKM Workshop, please follow the instructions in the invitation.
---
For further information, please contact the Wayeb Conference Board or the local organisers (Dmitri Beliaev, Alexander Safronov, Yulia Bernatskaya, Philipp Galeev, Sergei Vepretski, and Darya Baida) at emc2016@wayeb.org.