20th European Maya Conference: Bonn, Germany
The Maya in a Digital World
8 - 13 December 2015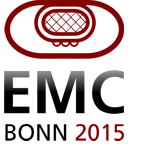 The 20th European Maya Conference is hosted by the Department for the Anthropology at the University of Bonn, Germany, from December 8th to 13th, 2015. The conference combines three and a half days of workshops (December 8th-11th) and a two-day symposium (December 12th-13th).




Programme for Workshop and Symposium
---
In addition to the EMC, the Text Database and Dictionary of Classic Mayan Project of the Northrhine Westphalian Academy of the Sciences, Humanities and the Arts conducts its 2nd annual public workshop on Monday, 14 December, directly after the EMC has ended.
The attendance is not restricted to EMC participants. Instructions of how to register can be found in the workshop description and invitation.
Admittance: 40 participants max.
There are 10 tickets remaining.
There will be separate registration available for both events. If you wish to attend the 2nd TWKM Workshop, please follow the instructions in the invitation.
---
For further information, please contact the Wayeb Conference Board or the local organisers at emc2015@wayeb.org.