20th European Maya Conference: Bonn, Germany
The Maya in a Digital World
8 - 13 December 2015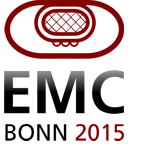 The 20th European Maya Conference is hosted by the Department for the Anthropology at the University of Bonn, Germany, from December 8th to 13th, 2015. The conference combines three and a half days of workshops (December 8th-11th) and a two-day symposium (December 12th-13th).

There will be separate registration available for both events.
---
For further information, please contact the Wayeb Conference Board or the local organisers at emc2015@wayeb.org.