Upcoming Events
19th EMC 2014: Bratislava, Slovakia
The 19th EMC 2014 will be hosted by the Slovak Archaeological and Historical Institute (SAHI) and the Center for Maya Studies at Comenius University in Bratislava, Slovakia.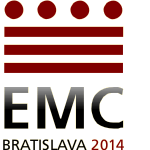 Date: first week in December 2014

Organiser: Dr. Milan Kováč

Title: Cosmología maya - Paisaje terrestre y paisaje celestial

Theme: El simposio va a enfocarse a cosmologia maya en una manera amplia y multidisciplinaria. Los participantes van a referir sobre imagenes de maya cosmos, astronomia en senso estricto pero tambien sobre la aplicacion de las observaciones mas general: en simbologia, epigrafia, iconografia etc. Especialmente esperamos contribuciones sobre arquitectura maya y su relacion con constelaciones y otros fenomenos celestiales. También se analiza estructura de cosmovision maya, niveles de los cielos y del mundo subterraneo, relaciones entre paisaje de los hombres y paisaje de los dioses. Un papel importante tendria estudio simbolico de las cuevas y abrigos rocosos. El simposio seria abierto para varios metodos de investigacion e interpretacion como astronomia, arqueologia, antropologia, historia, epigrafia y linguistica."

More information about the EMC in Bratislava will be available in the course of the year.