26th European Maya Conference: Bratislava, Slovakia
Registration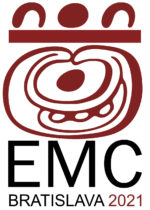 Please Note:
The registration for both the Workshops, and the Symposium is now open.
The workshop lineup (December 09-11) is as follows:
– From Sowing to Crops: The Chok Ritual in the Maya Inscriptions (ONLINE + ONSITE) (Maya epigraphy beginners), Dorota Bojkowska (Jagiellonian University of Krakow), Maria Felicia Rega (Sapienza University of Rome & Comenius University in Bratislava), and Boguchwała Tuszyńska (Independent Scholar);
– Eating and Drinking in Mesoamerican Scripts (ONLINE + ONSITE) (Maya epigraphy intermediate), Albert Davletshin (Universidad Veracruzana) and Daria Sekacheva (Russian State University for the Humanities);
– Comiendo como dioses, viviendo como reyes: aportes de la agricultura mesoamericana al mundo (ONSITE + ONLINE) (Special), Dora Maritza García Patzán and Maurício Díaz García;
– The Force Awakens: History and Politics of Early Kanu'l (ONLINE + ONSITE) (advanced), Sergei Vepretskii (Russian State University for the Humanities & Institute of Anthropology and Ethnography, Moscow), Ivan Savchenko (Independent Researcher) & Sandra Viskanta Khokhriakova (Russian State University for the Humanities).
Presentations in the symposium (December 07-08) will be given by the following speakers :
Jakub Adámek, Milan Kováč, Jakub Špoták, Tibor Lieskovský and Tomáš Drápela
Edber Dzidz Yam, Harry Thomaß
Nicolaus Seefeld
Evgeniya Korovina
Bodil Liljefors Persson
Joanna Asia Jabłońska, María Rosalía Couoh Chalé, Anselma Chalé Euán
Michal Gilewski, Christa Schieber de Lavarreda, Carlos Espigares, Miguel Medina, Víctor Flores, Aldo Aleman, Kajetan Oglaza
Lorraine A. Williams-Beck
Marc Zender
Edwin Braakhuis
Dominik Čisárik
Daniel Salazar Lama
Ana Kondic
Mauricio Roberto Díaz García, Dora Maritza García Patzán
Anabel Ford
Philippe Nondédéo, Cyril Castanet, Eva Lemonnier, Louise Purdue, Lydie Dussol, Marc Testé, Julien Hiquet, Antoine Dorison
Richard D. Hansen, Carlos Morales-Aguilar, Gustavo Martinez, Steve Bozarth, Daniel Bair, Richard Terry
Milan Kováč
John F. Chuchiak IV
Please register through our online registration portal:

Other Participants
For all who are not Wayeb members and don't benefit from the member discount.

Other Participants
The online event is free of charge.

Register here for online attendance
Online Registration Fees (until 30 November 2021)
| | | | |
| --- | --- | --- | --- |
|   | Regular | Student Rate | Wayeb Members |
| Workshop | EUR 50 | EUR 30 | EUR 25 |
| Symposium | EUR 50 | EUR 10 | EUR 25 |
| Both Events | EUR 80 | EUR 30 | EUR 40 |
These fees will be available until 30 November 2021 only. There are 200 spaces for the symposium.
Please, indicate in the "Additional information" zone which workshop you want to attend.
Registration Fees (on day of arrival)
| | | | |
| --- | --- | --- | --- |
|   | Regular | Student Rate | Wayeb Members |
| Workshop | EUR 80 | EUR 40 | EUR 35 |
| Symposium | EUR 80 | EUR 40 | EUR 35 |
| Both Events | EUR 140 | EUR 70 | EUR 60 |