27th European Maya Conference: Krakow, Poland
Registration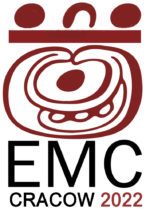 Please Note:
The registration for both the Workshops, and the Symposium is now open.
The workshop lineup (November 29-December 01) is as follows:
– Searching for the Original Names of Classic Maya Cities: Toponyms in the Maya Writing System (Maya epigraphy: beginners), Dorota Bojkowska (Jagiellonian University of Krakow) and Boguchwała Tuszyńska (Independent Scholar);
– Mapping Maya Discourse: Geographic Information Systems in the Analysis of Classic Maya Texts and Imagery (Maya epigraphy & GIS: intermediate), Felix Kupprat (UNAM) and Verónica Amellali Vázques López (Tulane University);
– Mapping the Maya Region: Explorations in the Sources on the Cartography and Cultural Geography of the Pre-Contact and Colonial Maya (special workshop), John Chuchiak (Missouri State University) and Harri Kettunen (University of Helsinki).
Presentations in the symposium (December 02-03) will be given by the following speakers :
Harri Kettunen, Panos Kratimenos, Jarosław Źrałka and Dorota Bojkowska
Takeshi Inomata
Marcello A. Canuto and Luke Auld-Thomas
Thomas G. Garrison, J. Dennis Baldwin, Stephen Houston and Rafael Cambranes
Milan Kováč , Marek Bundzel, Tibor Lieskovský, Jakub Špoták and Lucia Chvaštulová
Felix A. Kupprat, Kathryn Reese-Taylor, F. C. Atasta Flores Esquivel, Armando Anaya Hernández, Nicholas P. Dunning, Debra S. Walker, Verónica A. Vázquez López and Adriana Velázquez Morlet
Paul Graf
Eva Jobbová and Christophe Helmke

Daniel Prusaczyk

and

 Karolina Juszczyk
Carolina Collaro
Francisco Estrada-Belli and Alexandre Tokovinine
Jan Szymański  and Joachim Martecki
Przemysław Adrian Trześniowski
Michael Pittman , Thomas G. Kaye and Elizabeth Graham
Gaia Carosi
Maria Felicia Rega
Daniel Salazar Lama and Benjamín Esqueda Lazo de la Vega
John F. Chuchiak IV
Victor Castillo
Margarita Cossich 
Rogelio Valencia Rivera
Enrico Straffi
Monika Banach
Feliciana Herrera
Daniel Prusaczyk
Karolina Juszczyk
Please register through our online registration portal:
Online Registration Fees (until 20 November 2022)
Regular:
Student (

you'll have to present a student ID

):
Wayeb:
Wayeb student (

you'll have to present a student ID

):
Workshop:
90 €
50 €
45 €
20 €
Symposium:
90 €
20 €
45 €
5 €
All Events:
170 €
50 €
80 €
25 €
These fees will be available until 20 November 2022 only. There are 200 spaces for the symposium.
Please, indicate in the "Additional information" zone which workshop you want to attend.
Registration Fees (on day of arrival)
Regular:
Student (

you'll have to present a student ID

):
Wayeb:
Wayeb student (

you'll have to present a student ID

):
Workshop:
120 €
70 €
65 €
40 €
Symposium:
120 €
30 €
65 €
25 €
All Events:
230 €
100 €
120 €
60 €