The Wayeb Notes series is an online publication with an official Belgian ISSN number (ISSN 1379-8286). The General Editor of this electronic journal is Christian Prager.
The publication of the Wayeb Notes is discontinued from 2015 on.
Latest Issues

Wayeb Notes Archive
Related Links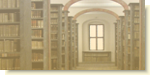 Wayeb Resources
Find more research papers, theses, drawings and other online materials for your studies.


more
Other Publications

Periodicals

Book Stores

Electronic Texts