Introduction
This section contains various resources and internet links related to Maya Studies and Mesoamerican cultures. The information you find here has been especially compiled for this web page and is updated on a regular basis.
We are trying to include only valuable and serious resources & links. However, we do not take responsibility for the contents of any website for which we provide a link. Please contact us, if you want us to add an interesting link or if you have discovered a dead link: Webmaster@wayeb.org.

Wayeb Resources
Text, drawing, image, and tool resources compiled by Wayeb members or exclusively posted on this website.

more…

Electronic Texts
Compilation of a large number of scientific texts – all of which are accessible on the web in electronic format.

more…

Museums & Collections
Inventory, description, and bibliographic references of the Maya objects hosted in European and Overseas Institutions.

more…
Related Links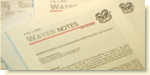 Wayeb Notes Archive
Wayeb's own publication resource of research papers. The archive contains all numbers issued so far.


more
Other Wayeb Information

European Research

Overseas Research
Event Resources

This Year's EMC