25th European Maya Conference: Warsaw, Poland
Registration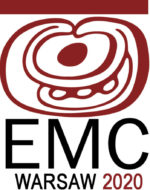 Please Note:
The registration for both the Workshops, and the Symposium is now open.
Please be advised that, although this year's EMC is fully digital, the number of participants on either event is limited and individual virtual tickets will be required to log in. The entire 25th EMC is free, so the order of registration requests will be decisive. The workshops have a capacity of 25 participants each, and the Symposium – 200 in total.
The workshop lineup (November 17-19) is as follows:
– On the frontier: relations between Piedras Negras and Yaxchilan (Maya epigraphy beginners), Ch. Tuszyńska, A. Haman, D. Bojkowska;
– Migration and ethnic complexity at Copan (Maya epigraphy intermediate / advanced), F. Kupprat;
– Maya Codices: Portals between Natural and Supernatural Worlds, B. Love;
– Older Peripheral Nahuatl (intermediate / advanced), Sz. Gruda, J. Sullivan.
The Symposium program (November 20-21): 25th EMC Warsaw 2020
To register, please send your full name and the events you want to participate in to emcwarsaw@gmail.com. As a courtesy, please unregister in case you know you will not be able to participate, so potential participants from the waiting list could be included. The virtual tickets will be distributed to the registration addresses in November.