Alfonso Lacadena García-Gallo †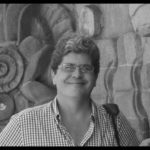 21 August 1964 – 9 February 2018
In memoriam
On Friday, February 9th, the world has lost one of its great souls, the academic world one of its great scholars, and Wayeb one of its founding members and pillars of the association.
We mourn the loss of Alfonso who brought joy and fulfilment to many, and whose legacy will live on forever. Alfonso was a warm, compassionate and vibrant person with a wonderful sense of humor. As a great testament to his character are the many long-lasting friendships that he fostered over the years. Not only was Alfonso a great person but also an outstanding scholar, a true Mesoamericanist, as well as an expert of so many topics of both New World and Old World cultures.
It is difficult to classify Alfonso in terms of scientific specialization. He was a specialist in Maya epigraphy and linguistics, Aztec writing and Nahuatl culture, as well as comparative studies of world's writing systems. He was an author of many important publications, including several monographs, articles, and workshop handbooks. Alfonso's role in the decipherment process of the Aztec writing was fundamental and his methods will be followed by generations to come.
In 2011, the Peabody Museum of Archaeology and Ethnology of the Harvard University awarded him the Tatiana Proskouriakoff Prize for his contributions in the decipherment process of Maya and Aztec scripts. Alfonso worked as an epigrapher in Guatemala and Mexico, producing drawings and analyses of the hieroglyphic texts from Oxkintok, Ek Balam, Machaquila, and Naachtun. He also conducted fieldwork with the Ch'orti' of Jocatan, Guatemala. Besides his native Spain, he also taught in Mexico and in various workshops at the European Maya Conferences, combining and sharing his knowledge of epigraphy, linguistics, anthropology, archaeology, and history.
Alfonso is survived by his wife and his two children. He passed away on February 9th, 2018 at the age of 53.
Alfonso was a lovely and lively person who has been taken away from us much too early. The memory of him will live on in us forever.