Erik Boot †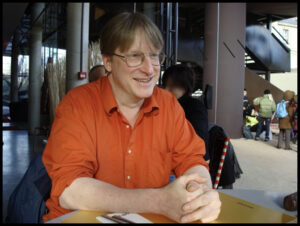 8 November 1962 – 17 December 2016
In December 2016, we lost Erik Boot [1], one of the six co-founders of Wayeb who, aged 54, had to give up his fight against pancreatic cancer. As a scholar, Erik is perhaps best known  for his monumental Continuity and Change in Text and Image at Chichén Itzá, Mexico (Leiden, 2005) and for his widely used Updated Preliminary Classic Maya–English/English–Classic Maya Vocabulary of Hieroglyphic Readings (Mesoweb, 2009), but his impressive output also includes numerous papers (published as well as unpublished) on topics as wide-ranging as mythology, ethnohistory, epigraphy, vase text and imagery, decipherment, and linguistics, many of which proved highly influential and remain widely-cited. He was in constant discussion with other Mayanists, circulating drafts and maintaining extensive email correspondence.
Erik studied anthropology at Leiden University and, with a scholarship from the Mexican government, conducted fieldwork near Mérida, Yucatan (1985-1986) under rather difficult circumstances. At the time of taking his master degree (1988), he co-founded a Dutch scholarly journal dedicated to Mesoamerica (Yumtzilob), before gradually beginning to concentrate on Maya epigraphy and iconography. In this, he received full support from his parents, who also allowed him to live and work at their home. Initially, his scholarly work focused on Yucatec language and history, resulting in his 2005 thesis on Chichén Itzá. In the years thereafter, decipherment and the workings of the Classic Maya writing system increasingly absorbed his attention.
Erik's interests were broad, just as his knowledge was encyclopaedic. By nature a joyous and quick-witted man, he was always happy to share his knowledge and enthusiasm with colleagues, students, and friends. He hosted many workshops at the European Maya Conferences and the Texas Maya Meetings, travelled extensively, and simultaneously managed to maintain several blogs ('Maya Glyph Blog', 'Maya News Updates', 'Ancient Mesoamerica News Updates').
Erik was also tenacious. Fully aware of his deteriorating condition, he passionately continued working on papers and projects. Many of us met him at the 2015 EMC in Bonn, the 2016 Maya art exhibition in Berlin, and the 2016 EMC in Moscow, witnessing how courageously, and indeed even humorously, he engaged with his final illness.
Erik was a highly talented researcher, a generous and supportive teacher and a witty and loyal friend. His utter dedication to Mayanist studies was recognised in 2015 with the Wayeb Lifetime Achievement Award.
Edwin Braakhuis
[1] It may be noted that Dutch "boot" sounds more or less like English "boat".