Pierre Robert Colas †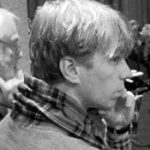 13 January 1976 – 26 August 2008
It is with sorrow and sadness that we announce the death of our dear friend and colleague Pierre Robert Colas. On the night of the 26th of August, Pierre and his sister Marie who was visiting him from Switzerland were shot in his house in East Nashville, Tennessee. Pierre was killed – Marie was found in critical condition and died on the 31st of August in a hospital.. This senseless and barbaric murder leaves us all in shock and in a state of helplessness.
With Pierre we are losing a good friend who was a wonderful Mayanist and scholar and a dedicated Wayebero. Pierre has been part of the European scene of Maya Studies since 1996 when he attended the first Maya Conference and Workshop in the British Museum. Two years later, in 1998, he organised the third European meeting in Hamburg which he named the "Third European Maya Conference". Ever since, Pierre has been an integral part of Wayeb and was involved in the organisation of several workshops and EMCs. He gave several papers at EMC-Symposia (Hamburg 1998, Madrid 2003, Bonn 2004, Geneva 2007). And he was a wonderful and dedicated workshop tutor. This year in Paris he wanted to teach the workshop on Maya codices.
Born on the 13th of January 1976 in London (United Kingdom), Pierre spent an interesting childhood living in various places including Mexico, before he moved with the family – including his wonderful parents, his older brother Jean Philippe and his beloved younger sister Marie – to Hamburg where he took his Abitur (high school degree) in 1995. After school, Pierre studied Mesoamericanist Studies and Anthropology at the University of Hamburg from which he graduated in 1999. He then moved to Bonn to work on his dissertation supervised by Nikolai Grube about Classic Maya Onomastics; as minor subjects he studied Egyptology, as well as Latin American History at the University of Cologne. He was awarded the Ph.D. in Anthropology from the University of Bonn in 2004. In 2005 he received the prestigious Emmy-Noether-Scholarship for Postdoctorate Study from the German Research Foundation to undertake ethnographic field research among the Yukatek-speaking Maya of San Antonio, Cayo District, Belize. In 2006 he was appointed Assistant Professor in Vanderbilt and moved to Nashville.
Pierre was a passionate epigrapher, constantly building up on his knowledge and broadening his perspective in Maya research. He worked in several archaeological projects including Piedras Negras with Stephen Houston and was involved in archaeological excavations of caves in the Cayo District together with Jaime Awe, James Brady and Philip Reeder. Pierre had studied Yukatek Maya in Hamburg and became fluent in the language during his extensive ethnographic field research in San Antonio in 2005 and 2006.
But Pierre's interests were not limited to his field of study. He played the violin, loved Classical music, good literature and was interested in politics and history. He also played different kinds of sports. He enjoyed himself socialising with his friends and was always cheerful. Even during times when his beloved mother was seriously ill, he maintained his good spirits, while travelling back and forth between Hamburg and Bonn. The loss of his mother brought grief and sorrow over Pierre – he nevertheless managed to complete his dissertation. During these difficult times Pierre found a wonderful partner in Katja Stengert who has been his faithful and loving companion in life ever since.
Pierre told everybody how much he loved his job at Vanderbilt. He was happy and thriving with lots of research ideas and plans. He was happy to be a teacher. It was as if all his dreams had come true.
We have lost a fellow Wayebero!
We have lost a wonderful young scholar!
We are mourning the death of our very dear friend!
Our thoughts are with Pierre's and Marie's father, their brother, with Katja and with the rest of the family. We wish all of them strength and hope.
Frauke Sachse
Photos of Pierre Robert Colas – Robby – we miss you and we will never forget you!