Bibliographic Resources
This section contains information about bibliographic resources that are relevant to the study of Maya culture. Besides a list of publications and periodicals that deal with Maya Studies, we provide information about libraries and archives in Europe and Overseas and list links to helpful online bibliographies.
Furthermore, we list the addresses of the most important book stores which sell books on Maya and Mesoamerican Studies. Where possible we provide you with relevant order information.
You may order books from Verlag Anton Saurwein directly via the Wayeb hompage!!!
Related Links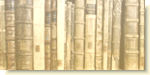 Theses and Dissertations
Wayeb's online collection of theses and dissertations on all aspects of Maya culture.


more
More Resources

Resources on Maya Research

Ethnohistorical Sources

Wayeb Notes Archive