Subfield Links
This section includes links relevant to the various subdisciplines or subfields of Maya Studies. You will find information about archaeological sites and projects (see also Research section), Colonial indigenous and Spanish history, reports on ethnographic field studies and contemporary Mayan life, as well as links to resources on Hieroglyphic Writing and Mayan Languages.
Related Links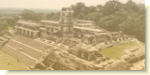 Projects in Overseas
Research projects in various subdisciplines of Maya studies conducted by institutions in overseas.


more
More Resources

Projects in Europe

Ethnohistorical Sources

Wayeb Drawing Archive