Introduction
This section contains several archives and resources related to the field of Maya Studies. We are trying to continually expand this section and provide the public with more resources.
If you have any data or material to add to the Wayeb Resources, please contact us: Webmaster@wayeb.org.

Wayeb Drawing Archive
Drawings of Maya hieroglyphic inscriptions and artifacts as high resolution images for download.

more…

Ethnohistorical Sources
A selection of important ethnohistorical sources digitized as PDFs for online use.

more…

Theses & Dissertations
Online BA-, MA-theses and PhD-dissertations related to the field of Maya Studies.

more…
Related Links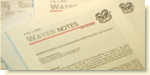 Wayeb Notes Archive
Wayeb's own publication resource of research papers. The archive contains all numbers issued so far.


more
More Resources

Internet Links

Newsletters