Wayeb Drawing Archive
In this section we are building up a download drawing archive. If you have your own drawings of Maya hieroglyphic texts or artifacts that you would like to post on this webpage, you are more than welcome to contribute to this section. There are 137 drawings in the archive.
In the archive, drawings are ordered by provenance and monument type.
A note on authorship: All drawings in this section are original drawings – authorship rights are held by those who have produced them, not by Wayeb. If you use any of these images for your academic work, we ask for a proper citation of author and source. Commercial reproduction of any of these images requires the permission of the author/artist – a sole citation of the Wayeb Drawing Archive will not be sufficient.
Please, send images to Webmaster@wayeb.org. Images need to be submitted in the following format, matching all criteria:
360 dpi scan at 100% from your original drawing
1 bit black and white bitmap
saved in PNG or GIF format (no compression!)
Please do not forget to send along the exact monument designation.
Important Notes
Wayeb will not post drawings of unprovenanced pieces which are previously unpublished, unless these are materials which are accessible in public context (e.g. museum). Images of pieces for which ownership and location are not stated, cannot be posted here. We are sorry.
Related Links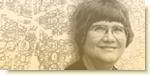 Schele Drawings Collection
The online archive of Linda Schele's drawings available at FAMSI with nearly 1000 records.


more
Other External Resources

Montgomery Collection

CMHI Online