14th European Maya Conference: Cracow, Poland
Maya Political Relations and Strategies
9 – 14 November 2009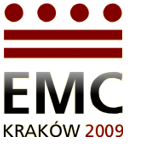 The 14th European Maya Conference will be organised at the Jagellonian University in Cracow, Poland, from November 9-14, 2009. The conference will combine a three-and-a-half day long Maya Hieroglyphic Workshop (November 9 – 12) and a symposium (November, 13 – 14).

Programme for Workshop and Symposium
Papers will be presented by (in alphabetical order):
Joanne Baron (University of Pennsylvania), Marcello Canuto (Middle American Research Institute at Tulane) & Tomas Barrientos (Universidad del Valle de Guatemala)
Lorraine Williams-Beck (Universidad Autónoma de Campeche), Bodil Liljefors Persson (Malmö University) & Armando Anaya Hernández (Universidad Autónoma de Campeche)
Allen J. Christenson (Brigham Young University)
Iyaxel Anastasia Cojtí Ren (Universidad del Valle de Guatemala)
James A. Doyle (Brown University)
Hector Escobedo (Viceministro del Deporte y la Recreación, Ministerio de Cultura y Deportes de Guatemala)
Hugo García Capistrán (UNAM)
Charles Golden (Brandeis University) & Andrew Scherer (Baylor University)
Elizabeth Graham (University College London)
Sven Gronemeyer (University of Bonn)
Nikolai Grube (University of Bonn)
Stanley Paul Guenter (Southern Methodist University)
Tsubasa Okoshi Harada (Universidad Sofía, Tokio)
Bernard Hermes (Nakum Archaeological Project, Guatemala), Jarosław Źrałka & Wiesław Koszkul (Jagiellonian University Cracow)
Milan Kováč (Comenius University Bratislava) & Ramzy R. Barrois (Ecole du Louvre, Paris)
Simon Martin (University of Pennsylvania Museum)
Carlos Pallán Gayol (INAH)
Arturo Pascual Soto & Erik Velásquez García (Instituto de Investigaciones Estéticas, UNAM)
Alexandre Safronow (Lomonosov Moscow State University) & Dmitri Beliaev (Russian State University for the Humanities)
Robert Sharer & Loa Traxler (University of Pennsylvania Museum)
Local organisers: Wiesław Koszkul and Dr. Jarosław Źrałka
Summary of the event with images (in Polish) on Wirtualna Polska.