18th European Maya Conference: Brussels, Belgium
Post-Apocalypto:
Crisis and Resilience in the Maya World
28 October – 2 November 2013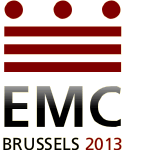 The 18th European Maya Conference is co-organized by Wayeb, the Université Libre de Bruxelles (ULB, Dpt. of Art History and Archaeology, Section Pre-Columbian Civilisation), the CENA (Centre d'Etudes Nord-Américaines-Canada-Etats-Unis-Mexique of the ULB) and the Belgian Society of Americanists (SAB).
It will be held from October 28 to November 2, 2013 in Brussels, Belgium. A three-and-a-half-day Workshop (October 28-31) will precede a two-day Symposium (November 1-2). There is also the opportunity to attend a guided tour of the Americas collection of the Royal Museums of Art and History (see below).

Programme for Workshop and Symposium

Symposium Abstracts
Since the start of the study of Maya culture, the concepts of crisis and collapse have been widely used to interpret a series of phenomena that are often framed simplistically. The "abrupt" abandonment of the great Maya centres at the end of the Classic period is a good example of this tendency. In the past two decades, however, a growing number of researchers have proposed more nuanced interpretations. There is little doubt that the collapse had causes that reflected respective regions and communities; that the course of collapse varied; and that resilience played a critical role in the socio-political and economic transformations that occurred. We must also consider the role of resilience in other crises, such as the passage between the Pre-classic and Classic periods, the years of Conquest, the Caste War, and the Civil War in Guatemala.
We propose in Brussels to debate the topics of crisis and resilience across the entire span of Maya history, from Prehispanic times to the recent past. We are interested in discussing the forms of cultural change brought about by crisis as well as in delineating which cultural elements persisted and which mechanisms allowed for continuity in times of crisis across the various periods. Discussion and debate should not be limited to phenomena of major extent such as abandonment or hiatus but should include detailed perspectives on access to resources, the transmission of dynastic power, the consequences of wars and attacks, and the impact of contact with other cultures in Classic times, the Colonial period or afterwards.
We shall accept contributions from the fields of epigraphy, archaeology, ethnography, ethno-history, and linguistics.
Post-Apocalypto: crisis y resiliencias en el mundo maya
Desde los inicios del estudio de la cultura maya, el concepto de crisis y colapso ha sido ampliamente usado para interpretar una serie de fenómenos y datos poco explícitos. El abandono "abrupto" de los grandes sitios mayas a fines del periodo Clásico es un buen ejemplo desta tendencia. Sin embargo, en el curso de las dos últimas décadas, un número creciente de investigaciones llevan a matizar estas interpretaciones. Se constata que el colapso sin duda tuvo causas múltiples y diversas según las regiones y los sitios, que su velocidad también es relativa, y que el concepto de resiliencia parece haber jugado un papel más importante de lo que se pensaba hasta la fecha. Y que decir sobre la resiliencia en las crisis que eran el pasaje de la época pre-clásica al Clásico, la Conquista, la Guerra de Caste, la guerra civil en Guatemala, etc.?
Proponemos debatir destos temas a través del conjunto de la historia maya, de los tiempos pre-hispánicos al pasado mas reciente. Nos interesamos discutir las formas de cambios culturales causados por las crisis, ver cuales elementos culturales resisten los cambios, o cuales mecanismos permiten la continuidad en la cultura maya a travès de las épocas. Los conceptos de crisis y resiliencias deben entenderse no solo para fenómenos de mayor amplitud como los citados, sino también para perspectivas mas puntuales como el acceso y la rarefacción de recursos, la transmisión del poder dinástico, las consecuencias de guerras y ataques, el impacto del contacto con otras culturas, sea en el periodo Clásico como en la época colonial y después. Aceptaremos contribuciones de la epigrafía, arqueología, etnografía, etno-historia, lingüística, etc.
List of speakers (in alphabetical order):
M.-Charlotte Arnauld (CNRS, Université de Paris 1 Panthéon-Sorbonne)
Erik Boot (Independent researcher)
Geoffrey Braswell (University of California, San Diego)
Allen J. Christenson (Brigham Young University)
Demetrio Cojtí Cuxil (Ministerio de Cultura y Deportes de Guatemala)
Peter Eeckhout & Sylvie Peperstraete (Université Libre de Bruxelles)
Sven Gronemeyer (La Trobe University) & Markus Eberl (Vanderbilt University)
Nikolai Grube (University of Bonn)
Kathryn Marie Hudson (University at Buffalo), John S. Henderson (Cornell University) & Mallory E. Matsumoto (future University of Bonn)
Takeshi Inomata (University of Arizona)
Maxime Lamoureux-St-Hilaire (Tulane University)
Catherine Letcher Lazo (University of Bonn)
David W. Mixter (Washington University in St. Louis)
Jesper Nielsen (University of Copenhagen)
Suzanne Nolan (University of Essex)
Johan Normark (University of Gothenburg)
L. Gabriela Rivera Acosta (UNAM)
Yuko Shiratori (City University of New York)
Benjamin N. Vis (University of Leeds) and Scott R. Hutson (University of Kentucky)
Jarosław Źrałka (Jagiellonian University) & Bernard Hermes (Nakum Archaeological Project)
Organisers
Dr. Peter Eeckhout and Dr. Sylvie Peperstraete of the University of Brussels